The Shared Resource Panel
The Shared Resource panel manages the settings of the shared resource object in your model.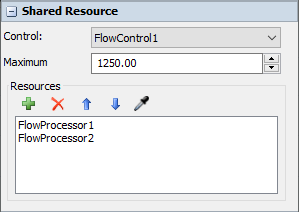 The following properties are on the Shared Resource panel:
Control
The flow control dropdown allows you to select which flow control in the model this object is attached to, or to disconnect it from its current flow control. Each FloWorks object that needs to have its flow rates calculated as part of a FloWorks network needs to be attached to the flow control as all the other objects in the network. For more information, please refer to the Flow Control Reference Page.
Maximum rate
The maximum throughput rate limits the total cumulative flow rate through all objects connected to the shared resource. For more information on how the constraint is applied, please see the Shared Resource Object Reference.
Members
The members section lists all flow objects which are sharing the resource. Objects can be added using the

Add button or the

sampler, and removed using the

Remove button. The order of the members is not relevant.