Overview and Key Concepts
The Release Token activity aborts the current activity of one or more tokens and sends them to a new activity.
This activity is used in process flow preemption. See Preemption for information on how to implement preemption.

Properties
The following image shows properties for the Release Token activity: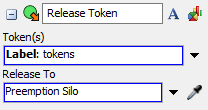 Each of these properties will be explained in the following sections.
Name
Used to change the name of the activity. See Name for more information about this property.
Font
The Font button

opens a window to edit the activity's background color and font properties. See Font for more information about this property.
Statistics
The Statistics button

opens the activity's statistics window. See Statistics for more information about this property.
Token(s)
Define the target token(s) who you want to release. This should usually match the Token(s) field of a Save Token Context activity. See Connecting Preempting Process Flows for more information.
Release To
Define the activity you want to release the token(s) to. Usually you will use the

sampler button to directly choose the destination activity.