Using the Properties Pane
Introduction to the Properties Pane
The Properties pane allows you to edit the properties for any object that is currently selected in the model or in a given tool. You can also use the Properties pane to view important information (such as statistics) about objects when they are selected during a simulation run.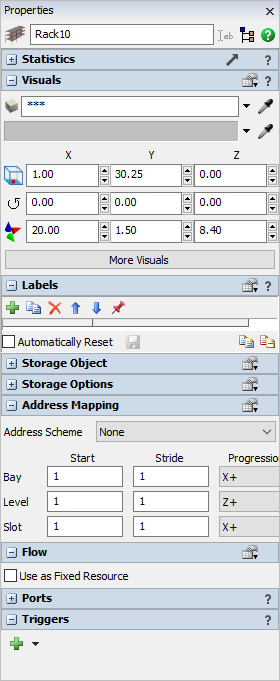 The Properties pane is context sensitive. The pane shows properties corresponding to the active tab you are working in (3D, Tree, Table, etc.) as well which object or node you have clicked on in that tab. For example, if the User Manual is the active tab, the right pane displays the table of contents for the User Manual.
Getting to Properties
Generally the Properties pane is docked on the right side of FlexSim's standard user interface. To edit an object's properties, just click on it, and you will see its properties in the pane on the right.
Alternatively, you can double-click on an object to view its properties. This will open a properties pane next to the cursor, where you can edit the object's properties.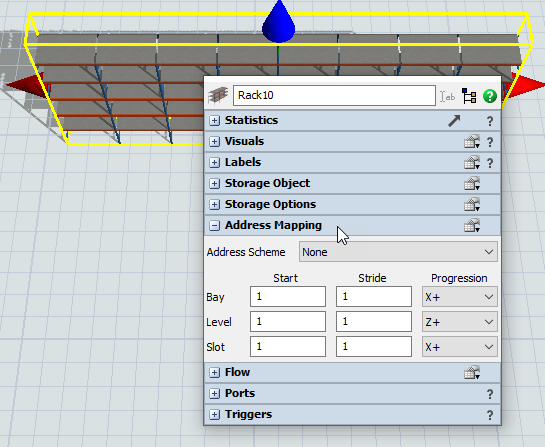 Editing Multiple Objects
You can also edit the properties of multiple objects using the Properties pane. If you have clicked on an object that is selected (there is a red box around the object), and you change one of that object's properties, that property on all other selected objects of the same type will also be changed to the value you define. When this happens, a small hint text will appear telling you how many objects have changed.
While the Properties pane allows simple changing of multiple objects' properties, you can use Property Tables to have more sophisticated visibility and control of your objects' properties.