Overview of the Healthcare Interface
Introduction
The FlexSim Healthcare interface is a specialized environment inside FlexSim. The Healthcare environment customizes the look and feel of FlexSim to give prominence to the tools and objects that will be the most useful when building healthcare simulation models. For example, the Healthcare environment customizes the toolbar and reorders the library so that healthcare related tools and objects are more prominently displayed.
To switch to the FlexSim Healthcare environment:
Create a new model, using the default settings.
In the top right corner of the main window (above Quick Properties), click the Change Environment button to open a menu. Select Healthcare to switch to the FlexSim Healthcare environment.
When you are in the FlexSim Healthcare environment, the model floor usually turns to a light gray color. The libraries and toolbars within FlexSim will also have a different graphic design and organization, as will be explained in the following sections.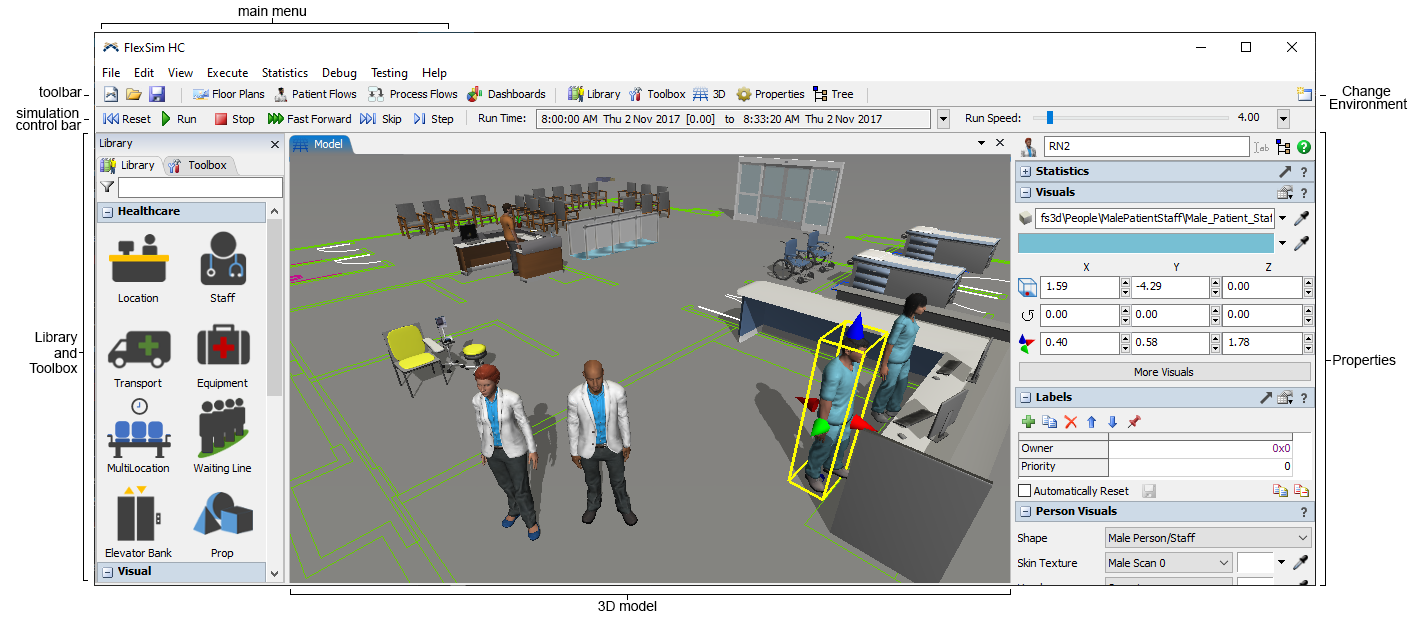 This remaining sections of this overview will focus specifically on the Healthcare environment, but you should spend some time familiarizing yourself with the standard FlexSim environment as well. For more information about the FlexSim user interface, check out:
Consider also completing the FlexSim Healthcare Tutorial for a hands-on introduction to the main tools and processes you will use to build models in the FlexSim Healthcare environment.
3D Model
Located in the center pane, the 3D model is the main workspace you will use to create a 3D simulation model of your healthcare system. You can drag objects from the Library into the model to begin creating your simulation. When you run a simulation, the patients and staff in your simulation model will begin to move and interact with objects and each other based on the logic you've defined in your patient flows.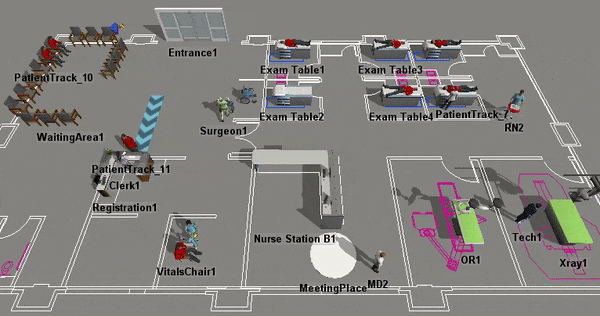 Healthcare Library
Located in the left pane, the Healthcare Library contains a variety of objects that you can use to build your 3D healthcare simulation model. They are organized based on their purpose and function. When you click some of the library categories, they might open a sub-menu that offer a selection of 3D objects in that category.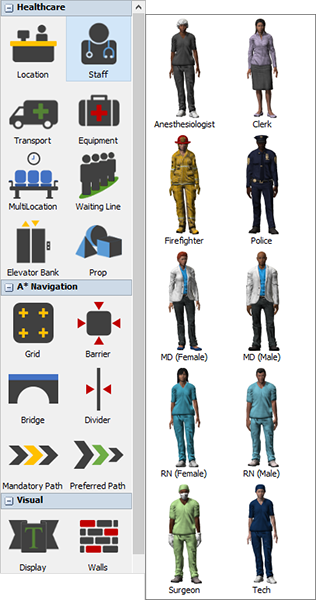 Patient Flows
Your 3D model's behavior and logic will be controlled by the patient flows you build using the Process Flow tool. You can build out the care and treatment plan for patients to follow using this tool. Your patient flow should include different activities or processes that should occur from the moment a patient arrives at a healthcare facility until the time they depart.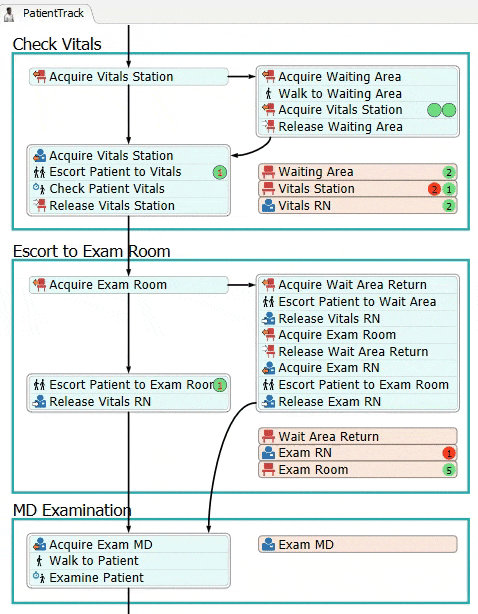 When process flow windows are active, the left pane changes from the 3D object Healthcare Library to the process flow Healthcare Library. When you're in the Healthcare environment, this library will feature the activities, activity sets, and resources that are most relevant when building a healthcare simulation model.

Properties
Located in the right pane, Properties allows you to quickly edit the settings (properties) for any 3D object or process flow activity that is currently selected.